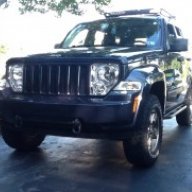 Well-Known Member
KJ Supporting Member
Joined

Dec 9, 2012
Messages

2,036
Reaction score

2,136
Location
Hi KK owners,
I have had a set of Rock Lizard Fab rock sliders on my KK since 2012. They have been awesome both off road and in Philly where dings and dents from other vehicles making contact are common.
I have repainted my sliders twice and powder coated them once. While the sections that show are still looking nice, there is significant structural rust on the 1x1" tube that bolts to the pinch weld on the body. This part holds the outer part of the slider up under doors.
I recently visited a respected 4x4 fabrication shop in my area and was told that repairing them will be as much or even more expensive than buying new. I was surprised that buying new was an option, as Rock Lizard is no longer in business and AtTheHelm has discontinued their KK rock sliders. JCR also appears to have made KK sliders at one time but they are now discontinued. A quick google search led me to Rocky Road Outfitters' KK sliders, which look pretty similar to what I have, with the exception of less bracing between the slider and the "frame rail" on the unibody.
RRO slider link:
Rock Slider kits for all Jeep Liberty, Rockrail kits. Lifetime guarantee! Nothing is stronger
RRO slider pic from their website. Note only 2 braces to the frame rail area.
You must be registered for see images attach
My Rock Lizard sliders before powder coating the last time. Note 4 braces to the frame rail area.
You must be registered for see images attach
I know that RRO-branded upper control arms have fitment issues sometimes and I don't want sliders that don't fit properly. I also don't want the mounting to be weak. However, they do have a lifetime warranty. Has anyone had experience with RRO rock sliders who is willing to share what they think? What other fabrication companies out there (if any) make KK sliders?
Thanks in advance.
Last edited: