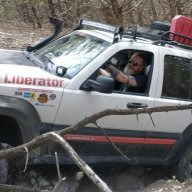 Joined

Apr 29, 2021
Messages

2,107
Reaction score

2,661
Location
So I have confirmed that most if not all denizens of Wrangler Forums are complete knuckleheads (I have a stronger term I use that gets censored here involving a small boat with pointy ends and the French word for "wash"...), Plus, I am invested in the most excellent community here. Technically I am still working on Bert as he is now with my son-in-law and daughter and they are already beating on him...and I have to teach them the "magic" of an Aussie Desert Rat build Liberty...

Anyway, I picked up a 2020 Rubicon with all of the whistles and bells for a steal. Sure it is three years old and has 100k miles on it, but I tracked down the original owners via the local Jeep club and learned it was all highway miles. It has the 2.0L Turbo engine which is perfect for my use. It came with absolutely awful "Best of Amazon" aftermarket nerf bars made by DV8 but is otherwise a stock Rubicon with the cold weather package and the top end packages. Also has brand-new set of OE tires. Basically a stock Rubicon JLU hardtop with the wonderful "T-top" panels up front. Bright white paint, black with red trim interior, black and red badges and decals...in other words, the most perfect version of my dream car. Added bonus, it has the amazingly good Alpine premium sound system with the full size infotainment system.
Still have lots of love for Bert, but I have wanted a Wrangler since 1987...

First up I had to replace the factory cabin air filter. Man people are dumb...
Next was plugs, serpentine belt, oil/diff changes, radiator flush and the removal of about 100lbs of corn-grid limestone gravel and dust from the skid plates. Go figure, the previous pavement princess owners never did anything beyond oil changes and engine air filters...is an error with the ParkSense I am troubleshooting, but this is a non-critical function so I'll get it figured out when I get it figured out.

Then of course, I had to get my "trademark", Ode-to-Bert the ScienceMobile, red and black grille painted. Also got my vintage Jack-in-the-Box antenna topper in place

From there it was time to start mods to get the "RubiKHAAAAAAAAN!" (Star Trek geeks get it...) ready for my desert rat excursions. Thankfully I do not have to do much.

Wheeling and dealing, I was able to get a pair of cross bars for a mere 50$ from a Gladiator Bro so I can haul my kayak and properly secure my most excellent SlumberJack Roadhouse tarp.
Then with more google-fu and Craig's List and Marketplace deals, I sold the awful pinch nerf bars for 200$.
Being up 150$, a bit more wheeling and dealing I was able to get an open box, cosmetic only scuff damage set of Paramount Industries frame-mount Canyon rock sliders with built in low profile steps for a mere 100$ with free next day shipping from ExtremeTerrain after clearance pricing and Veteran's Discounts. So, got all the stuff I needed immediately for no cost. Sweeeeet.

Only thing left to do is get a stubby bumper on the front end and mount my GMRS and CB radios and antennas.

Pictures to follow.