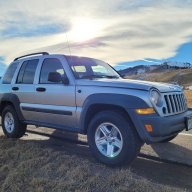 Joined

Nov 12, 2021
Messages

20
Reaction score

10
Location
'07 Liberty. I have a very small coolant leak that only happens every few days. I can't determine the source. It is dripping from the lower radiator hose gooseneck/hose on the engine side but, I don't know if that's the source of the leak, or if it's running off something else. (the hose and clamp are less than a year old)

The baffling thing to me is the intermittent part. In my experience, coolant leaks are not a "sometimes" thing. In this instance, it's usually only a few drops, creating a small puddle a couple inches wide. It seems to only happen when the engine is at operating temperature but, I can often drive it for a couple of hours with no sign of a leak at all. But, every few days, I'll sometimes see that small puddle. So, I don't think it's a case of the leak only occurring when the thermostat is open, or only when it's closed. In that scenario, wouldn't it be leaking much more often?

In the two weeks or so it's been happening, I have only been able to actually see it leak once, which is how I was able to determine where the drip is coming from. It hasn't yet lost enough coolant for the reservoir to be dry it's about an inch below the "full" line. So, I don't think I'm losing much.

This started about two weeks after I installed a new water pump. But, I can't see any wetness around the pump on that side. And, in any case, I would think a gasket leak would not be intermittent. There's no indication that it could be coming out of the water pump' shaft seal.

Any ideas?
Last edited: