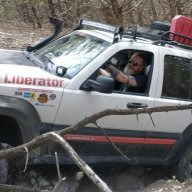 Joined

Apr 29, 2021
Messages

2,107
Reaction score

2,661
Location
Okay gang, if you, like me have realized that the third windows (cargo area windows) on your Liberty are only good for placing decals and running you broke on RainX to keep them from looking nice...what follows is a very cheap method of converting them into cabinets.
(This post may take a few weeks for the full build instructions as I am posting it as I get parts and such in. If you order everything at once, you can do it in a single day yourself if you do not care about preserving the window glass!)
Now, full disclaimer, I am demonstrating the cheapest possible way to do this. There are many ways to do this conversion, but require more money, expensive materials and specialized equipment most folks do not have access to. I will however talk about those methods while I do it cheap and dirty.
So first off: the inspiration-
xc_hide_links_from_guests_guests_error_hide_media
My opinion of this video: Its a great idea, but this dude has a well equipped shop at his disposal. However, since he used plate aluminum and does not have a tri-roller plate bending machine, his design will fail due to the curve of the windows/cabinet door. The aluminum will flex, expand, and contract due to temperature and that will eventually cause the hinges and latches to fail. Also he will have issues with the weather getting in at highway speeds. Forcing a flat plat to stay under stress just makes a big spring that will open at the worst possible time.
Betcha none of us have a tri-roller at home. So the first change I am making is to replace his aluminum sheet with 1/4 inch thick ABS plastic sheet. Yes, it is less expensive, but it is completely weather temperature resistant, far more impact resistant (won't dent!), and all you need to work with it is a heat gun and appropriate saw. It is easier to paint if desired. For my application, I do not want a gull wing style door. If it pops open while you are on the freeway, you gonna loose everything inside. So next change I am making is to place the hinges on the side towards the engine and the latches on the rear edge.
I also want to preserve the glass, in case I want to convert it back (or sell them to recoup some cost. Therefore I am having the auto glass place in my neighborhood remove the windows for me. Then I'll keep them on the Bert shelf with the rest of the too good to throw away goodies...
The first part of this How To focuses on removing the window glass and installing the exterior doors. The Second Part will focus on modifying the interior trim panels to create the cabinets. The Third Part will focus on building the interior cabinet door/racks so that the things stored inside these can be access from the cargo area. Part 3 is optional. I am doing that mod because I use a Slumberjack Roadhouse Tarp and it would interfere with opening the exterior cabinet doors.
Enough of the rambling. First thing I did was measure the windows. Then I spent a few hours looking for the lowest cost materials. Turns out Amazon even beat out my industrial suppliers, hence the shopping list. At the time of writing, September 2021 my list is far cheaper than his for better stuff.
You must be registered for see images attach
Total cost without the heat gun and struts is 102 USD on 9SEP21...your cost may vary.
A few notes:
1. Struts included only if one desires to install them. I advise against them as they will cause them to open if the latch fails. Also, I'm a cheapskate, so I found a better deal than he did on principal.
2. I bought just one bare metal 12 inch piano hinge (AKA continuous hinge). I can cut it half myself to make two hinges for less than buying two or four packs of hinges like he did. Big savings!
3. I included a cheapo heat gun just incase you don't own one.
4. I found better weather seals. This style is one piece and will clip on to the rim AND will seat perpendicular to the door interior. His chosen seals parallel to the door interior. I have used them to replace OE style seals on my VW bug, and had to add a vent to the dashboard as they made it air tight and my windshield would pop out of the seal on hot days.
5. There is the ABS plastic. You can see it is less expensive than aluminum. It can be cut, drilled, and formed easier with out special tools. Also you can paint it whatever color you like with a rattle can paint for plastics.
6. I didn't include fasteners as I will be using black aluminum pop rivets. You can use screws if you like, but I found the low profile, flush mount stainless steel ones to be too expensive. That and I have about a million various pop rivets laying in my shop.
Here is the list of stuff you will need that I am going to assume you already have: (Starred items Optional)
Pencils, sharpie markers, and a crayon (Yes you will need a crayon!!!)
**rattle cans of paint in the appropriate colors
**disposable gloves and CLEAN work gloves.
Cordless drill or Dremel tool
extension cords
Jig saw AKA reciprocating gun saw with fine tooth blades for cutting plastic or the sheet cutting adapter for the Dremel with a bit for plastics
Duct Tape
Painter's Tape
Goo Gone or other adhesive remover
**A rattle can of light hold or even better temporary spray adhesive
Various grits of sand paper
**Propane or butane torch
Big sheets of paper, like butcher paper, need to have 2 pieces about 2' x 2'.
Fasteners of your choice of the appropriate size. (The hinge listed is drilled for #8 screws giving a 0.173 hole diameter so about 4.3mm in diameter) non-rusting pop rivets are highly suggested!
Assorted hand tools, including scrapes and or putty knives.
**A bucket of warm water with Dawn brand Dish Soap
**A light duty degreaser like Simple Green in a spray bottle.
**OPTIONAL but FUN :A window breaker and shop vac if you don't care about saving the glass.
NOT OPTIONAL: Appropriate beverages and music. :wink:
Once you have everything in order, please know that you CAN NOT use this method at temperatures below 50F (10C) if you want to keep your window glass in one piece. Thermal Shock will turn automotive safety glass to gravel instantly.
Next Post will be the first step, Laying the Ground Work prior to window removal.