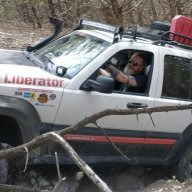 Taking a break from the internet...back soon!
KJ Supporting Member
Joined

Apr 29, 2021
Messages

1,827
Reaction score

1,951
Location
There are a thousand folks pumping out decals these days thanks to the dawn of cheap home die cutting.
I see a thousand mall rated wranglers rolling around Omaha, and all of them are emblazoned "Rubicon" even though most aren't. there are lots of Cherokees and such all lifted up to tackle the infamous red brick roads of Downtown Omaha's Old Market District. Just down the street from me is the other VW guy in Bellevue. His XJ has "Tortuga" on the hood. Not being a social media guy, I plied him to explain what the heck a tortuga was...
Anyway, as we stood around B.S.ing about the cost of 2x4s and the "wonderful" Omaha weather, he pointed out that I too could brand Bert Mk.1 with a hood name.
Given the amount of work and cash I have into it I figured, "Why Not?" anything worth doing is worth overdoing.
This led me to Rebel Decal. I could tell right off the bat that either the owners have some mildly offensive political views OR that they were smart enough to make money off those that do. I hope that it is the latter.
They have a wide selection of "Made in the USA" decals to hide the rust on your jeep and a very competitive
"Custom Jeep Name"
for 28.99 USD at time of writing. (They did have a sale about a week after I placed my order for 20% off)
Feeling a bit froggy, I ordered "Liberator" in bright red with the "Revamped" font. Might as well go for the full ego-stro.king like everyone else, but on a Libby KJ whis is farm more fun and far less expensive.
The decal arrive about two weeks later carefully packed in a short mailing tube. There were no wrinkles or bubbles in the decal, something that is usually a problem I have with decal shops. It is gonna look great on Bert's hood. Now I can truly be mall rated!
It is far to cold to install right now, and I am out of
decal setting spray
anyway, but I have the decals unrolled and laying flat under some books to take the shipping curl out of them.
This was a pleasant online shopping experience, and customer service was exquisite. (I had reached out to them to find out my shipping date only because porch piracy is rampant in my neighborhood.)
All in all, if you are looking for stuff to stick on your Jeep this place has fair prices, good service, and and a wide selection.
I'll add a photo whenever it warms up enough to install mine.