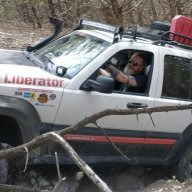 Joined

Apr 29, 2021
Messages

1,895
Reaction score

2,051
Location
For less than 20$ you can get your tiny Liberty cargo area organized. Truth.
You must be registered for see images attach
I originally purchased this item only because I got it for an Amazon Flash Deal for 50% off.
It is basically a velrco pocket panel intended to stick to the rear of your back seats. Sadly it is the wrong size and has velcro in all the wrong places so it barely sticks to Liberty seats. If you do manage to get it in place with the velcro and integral tie straps, it looks like garbage and cannot actually carry anything heavier than a few packs of cigarettes.
I was P.O.ed and ready to return it when I realized this unit is almost exactly the same size as the interior of the swing gate!
So I got creative with some cheese head self tapping sc.rews and put it there.
Holy frakking heck! This is awesome! I carry recovery gear, a mini trauma kit, assorted automotive chemicals, tent pegs, rope, paracord, flares, solar worklights, spare fender and trim clips and a bunch of tools. The pockets are tougher than they look and it makes your tiny cargo area look like you know what you are doing. I didn't cut off the integral tie straps out of sheer laziness, but by leaving them on I ended up with even more storage capability. You can tie all sorts of stuff to it.This is by far the best and cheapest modification I have made to my Liberty. So useful I installed another in my wife's 06 liberty too.
Pros: Cheap, Strong, and comes in black or gray. Fits on a KJ interior swing gate like it was made for it.
Cons: It is garbage if you intend to use it on the rear of your back seats as intended. You have to be willing to put about 8 screws directly into the plastic trim panel.