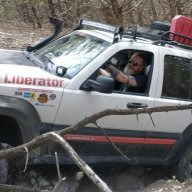 Joined

Apr 29, 2021
Messages

2,055
Reaction score

2,546
Location
When I got my first Bert the intent was to get it road worthy, take it on an epic solo expedition, then sell it for a down payment on a Wrangler. (Shhhh! Don't tell Bert- shed get cantankerous!) Anyway, I needed a fast and cheap solution to haul gear on the roof. I went the dirty route and just bought what Amazon's 07 Liberty search function spit out.
The main goal was to carry 150lbs and not obscure the sunroof and not dig into my trip fund too deeply.

For the crossbars I found this unbranded set:


For the rack itself I went with:


Total cost for both at the time was 140$ even with free prime shipping. Regular retail at the time would have totaled $210USD plus whatever shipping would have been for the rack- it wasn't available as a Prime option at the time.

The crossbars were of German make as I was pleasantly surprised to discover. They are in fact specifically designed for the KJ (read as Cherokee III on the scant German instructions) Downside was the included "destructions" were left wanting...and in German! The rack is China-made as are most things these days. Neither package was missing any parts. The rack had a few minor dings and some missing paint from shipping rub.

I installed the crossbars with minimal difficulty. They were a bit tricky to figure out, but once I got the hang of it, each was installed on my roof rails at the Jeep recommended positions. For reference, on the 07 Liberty rails, there are four tiny holes, two to a side at the point you want to have your cross bars. My only real complaint is that the four hex head set scre.ws were not stainless steel and are left exposed to the elements topside. To prevent rust issues I filled each of the four scr.ew pits with Blue RTV sealant.

The MaxxHaul rack is just a branded version of the same rack from 15 different vendors (as is the norm with China-made stuff these days). Some versions were selling for 250$!!! Mine did have a shoddy branding on the windplate in janky white paint: "MacksHall", but to prevent rust and increase cargo stability I coated the entire thing with two coats of textured Herculiner. My main complaint of this unit is the lameduck clamps to attach it to the rails. The tension knobs are pretty soft plastic.

To make a long story short (you can get the long details of the application in my Great Basin trip thread), both of these cheapo roof solutions performed brilliantly and ended up actually hauling around 200lbs of gear for over 3000 miles on and off road. They are still installed on my 07 at the time of writing. I even added a few rear work lights to the back of the rack.

I am a firm believer in "more for less" and a staunch opponent of overpriced, name branded items designed mostly to maximize company profits and defraud the consumer of hard earned dollars (Yeti, Thule, and Rhino Rack, I'm pointing at you!) for a stupid name. Sure, if one isn't careful it is easy to "get what you pay for", but I have been very happy with both of these low-budget products.

The pros: Cheap, lightweight so as not to impact your total roof load limit of the factory suggested 150lbs, and easy to slap on and go. Neither rack nor crossbars added any noticeable wind noise- sunroof open or not.

The cons: the crossbars are tricky to get properly centered on the factory rail breather holes. The rubber liners for the crossbar clamps do not fit well and required a dab of RTV to get the to stay put prior to clamping. The end of each crossbar aluminum extrusion does not seat all the way into each clamp. The extra space is to allow for expansion and contraction. One has to very carefully get them centered before sc.rewing them down and there are no instructions or alignment marks to do so.
Only complaint about the roof rack other than the shoddy non stainless steel hardware is the size- it is an few inches more narrow than the factory rails. I would have preferred if it was the same width, but I never bothered to get the tape measure out before purchase so its my own darn fault. As I had feared, the roof rack clamps are janky. One has to makes sure they are tightened properly regularly as the soft plastic likes to come un.sc.rewed.

Conclusions- these items when paired together make for a cheap and quick roof hauling solution. They even look good! If you are looking to blank your spare tire carrier and go safari style, this set up is perfect. If you are using it to haul backcountry/off oad/overlanding gear like I do, it is a bit limited by the small size of the basket. Added bonus- I plan to upgrade to a larger, stronger system in the future, but this roof rack is the perfect size for the roof of a Volkswagen Bug.