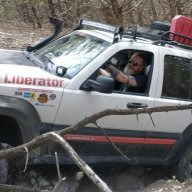 Taking a break from the internet...back soon!
KJ Supporting Member
Joined

Apr 29, 2021
Messages

1,821
Reaction score

1,921
Location
Here is a true Gem of a find from Scamazon:
You must be registered for see images attach
Do not let the price or lack of branding fool you, this is money well spent if you want to control the chaos of wiring up your accessories and exterior lighting.
I had my reservations at first, but once this kit arrived, I was shocked at the quality. It will be the best 30 bucks you have ever spent.
This is a beefy box.
The kit comes with all the relays, fuses and connectors you may need, plus bracket hardware.
Each and port to the exterior has a high visibility silicone seal.
It is not pre wired so you can rig it however you like for your application.
The individual circuit modular design makes it easy to add each accessory as you get it, so saves a ton of time if you pre-wire each individual circuit.
It also includes a BUNA-N base seal for flush mounting if you so desire.
In other words, lots of great stuff in this kit for 30USD. I priced it out, and if you were to purchase just the box, you would spend close to 2.5 times the price if you bought everything else seperately on Spamazon...and that is if you buy the absolute cheapest components on that site.
Wire up your relays and fuses, and connect it to the busbar and you are now fully plug and play.
I am using it (in conjunction with waterproof busbars by the same manufacturer) to destroy the jerry-rigged kraken under my hood and dash for the following accessories: Ditch Lights, Roof Bar, Forward Roof spots, Rear Roof work lights, front Amber Fogs, and a 12v USB charging port. By using this product, it makes it look like I actually know what I am doing for a change.
So there are all the pros- beefy modular design with a brilliant layout in a true water and dust proof enclosure.
Now for the cons:
This unit is NOT for beginners. You MUST know how to properly wire 12VDC automotive circuits AND how to do proper terminations and installations.
The instructions included are not installation or application instructions. You will have to Google quite a bit if you do not know how to set up automotive cube relay circuits.
None of the sockets are prewired. You will need to purchase the proper tools for the job if you do not own them.
The supplied blade connectors for the relay and fuse sockets are of dubious quality, however if you know what you are doing, they will suffice.
The bulk of this unit makes it a bit tricky to find a home. In the KJ there is not really anywhere under the hood to mount it, nor is there a place inside that both fits it and allows ease of access.
I ended up mounting it on the interior of the hinged dash plate directly below the steering wheel. Even that was a tight fit and required some finagling. Plus side is, with proper service loops and cable management, it looks like it is supposed to be there, and is not readily visible.
Last, there is no real cable management included. You will have to engineer on the fly for your application.
Anyway, in short, this kit is a godsend if you know what you are doing. You cannot beat the price. I had budgeted almost 800USD for my exterior lighting, interior lighting, LED conversions, and sound system install. As of this writing I have spent a total of 100$ on the circuits thanks to this gangbox and the companion busbars.
Bert is getting brighter and louder almost every day and your Liberty can too!
(Details of my application can be found in Bert the ScienceMobile's build thread elsewhere on the forums...if I ever get around to posting all the pictures and such.