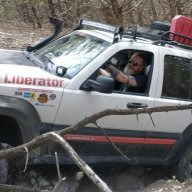 Proud owner of a nice, cheap set of center caps.
KJ Supporting Member
Joined

Apr 29, 2021
Messages

1,703
Reaction score

1,615
Location
Okay gang, been beating the heck out of a Slumberjack Roadhouse Tarp lately, and I'm Impressed.

I picked up the version with the drop down mosquito netting a while back for a very good price From Sportsman's Warehouse over in Iowa.

I did so with reservation as the online reviews were mixed. I quickly learned most of those reviews were by idiots. The biggest complaint I read was that the steel poles are heavy and not telescoping. I assure that lightweight telescoping poles are awful and would not work well in this application. As I said, the naysayers are spoiled, lazy idiots…

The Roadhouse Tarp might as well be designed specifically for the Jeep Liberty KJ. It fits perfectly on the back end if you have a crossbar on your roof rack. Once you figure out how to set it up, one person can have it ready to go in about ten minutes. And you can still open your whale tail wind

While it deals lightweight and flimsy, I assure you it is not. Mine suffered through high winds and torrential rains without so much as a pulled stake. It is 100% waterproof. The bug nets are very durable and have stake loops and a zipper door. The included guy lines are very strong and have a well conceived tensioner.

Anywhere you go you can set up a very large, very comfortable "living room"! I'm about 6'2" and there is plenty of headroom. If yo like, you can skip the tent and just set up a cot for a protected nights rest!
Brilliantly, the bug netting has an under the rear bumper wall so you can truly go bug free!

The included duffle is waterproof and does just fine on the roof rack keeping your kit dry.

Now that isn't to say there are somdownsides and design flaws…
As with every single tent and tarp on the market, the included stakes are trash. You will need to buy appropriate stakes for the terrain. I personally prefer the Nail type stakes for most everywhere and the ***** type stakes for soft or sandy terrain. For tailgating on pavement, you will need appropriate weights. I use 2 gallon buckets filled with concrete of which you will need 6 for full weather resistance.

As a sun shade I rate this as mediocre. SPF 50 it ain't. While it does provide shade, in glaring full sunlight you can still get a sunburn and feel the heat, but it is far better than nothing.
The reflective guy lines are barely reflective and do not fluoresce so they are a serious trip hazard. I added some flags to mine with some surveyors marking tape until I get around to replacing the guys with reflective cord that works.

There are no set up instructions included, so download them or better yet practice before you go!

The biggest error in my mind is the lack of loops to hang lanterns from. I fixed this by doing a bit of knot work at the top end of each pole…however the poles are outside the bug net…

Finally, there is no center pole meaning the tarp doubles as a rain collection device if you don't have it set up perfectly.

All my complaints aside however I feel this product is excellent for the price if you use your KJ for stuff other than getting groceries!