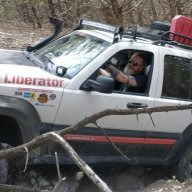 Headed off-grid. You suckers enjoy "civilization".
KJ Supporting Member
Joined

Apr 29, 2021
Messages

1,762
Reaction score

1,743
Location
Long story short: emergency use only!
You get what you pay for. Not recommended*

In depth: last summer, I was in a pinch and brand new to Libertys. Also was about to leave for a weeks long trip. Front suspension was sagged out and budget was locked in.
Was able to get everything that had to be replaced In two days with free shipping. Slapped it all in, got an alignment, loaded up and hit the desert.

Cheapo parts did the job. The survived. Trip successfull.

About three months and 5000k later parts stated to fail. Lower ball joints. Tie rod ends. UCAs. Etc.

I expected as much.

I can confirm 1A Auto has excellent customer service and they stand true to their warranty. As a result I have a nice set of brand new emergency spares. They also offer very useful how to videos for beginners like me.

These cheapo parts saved my but.t a couple of times until the good stuff got delivered.

Otherwise I do not recommend these parts.