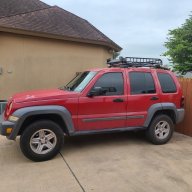 Joined

Feb 27, 2022
Messages

8
Reaction score

4
Howdy everyone, my 05 jeep liberty had been releasing a freon smell when I would turn off the cold air button. My liberty kept running out of freon for a whole year now. After frequent vacuumes and freon refills, I have not found the leak anywhere under the hood. My next thought would be that the Evaporator has a leak. I have never changed the evaporator or opened the dash board, so it's kind of a scary job for me.

Does anyone have any guides as to how to replace the Ecaporator from behind the dashboard? I saw several videos on YouTube but most of them aren't really showing you the process of how to get there.

Thank you all in advance!