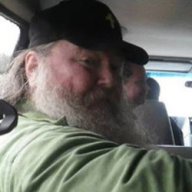 How can I help you or make you smile?
Joined

Aug 16, 2022
Messages

14
Reaction score

15
Location
That is my favorite price for fixin what needs fixin. This thread will mostly be about things I do to fix what needs fixing, for a cheap as possible. I'll kludge. I'll reverse engineer. I'll even make parts myself, if I need to.
I won't be posting beauty pics. My vehicle has to earn it's keep, and I don't really care that much about how it looks.
I've owned a 2004 liberty for about a month now. Been able to drive it for about two weeks. Been fixing anything I am able to fix. It needed a lot of maintenance.
Here it is, still sitting in the driveway of the farm from where I bought it.
You must be registered for see images attach
To get it home, I had to get it started. Turn the key, and everything worked, but it just seemed like maybe the key was not turning far enough. It just wouldn't start.
I'm sorry, I didn't get any pictures of this fix. I was just concentrated on getting the vehicle home to my place.
Started the research for a cause. As I said, everything seemed to be working. I located the starter relay and removed it. Then jumpered the correct points, and she started right up. That told me there was nothing wrong with the starter, or the rest of the systems involved in starting. Probably an ignition switch problem.
I looked online for anything pertaining to that. Found that the most common problem with this was the pin inside the steering column that breaks. So, I took the column apart and pulled the ignition switch itself, to check it out. There was nothing wrong with the pin. But I noticed as I was removing it that the connector didn't seem to be on the switch very good.
So I removed the connector and inspected. All looked good. I reinstalled the connector. Wiggling it around and pushing it on as hard as I could. Got a good solid connection. Then turned it with a screwdriver. It would start maybe one time out of about twenty tries. So the problem seemed to be in the switch itself. I ordered a new switch.
But I still had to get it home. Jumpering the relay points was still working to get it started, but I didn't want to run wires all the way up into the cab, to keep doing that. So I sussed out the wiring for the switch at the column. I reckoned that if I jumpered the red and the yellow wires at the back of the switch connector, I could do the same as jumpering the starter relay. I was correct. So, I manufactured a couple jumpers from paper clips, wired them up, shoved them in the back of the connector, and tied everything in place. Then ran the wires to a cheap momentary on switch. Put the column all back together and let the switch hang outside it. Now, I could turn the key all the way on. Then hit that momentary on switch, and it would start every single time.
Satisfied that it was reliable enough to take a chance with, I started it and drove it home.