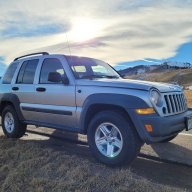 Joined

Nov 12, 2021
Messages

18
Reaction score

10
Location
I did take a look at the "required Fluids" sticky but, I have some deeper questions.

I bought an '07 KJ back in November. I noticed the day after I got it that one of the tanks on the radiator is held together with epoxy. So, I got a new radiator for it in December but, it's been so freaking cold I haven't put it in yet. It's now developed a pretty constant drip under pressure so, time to do it.

I know that the OEM coolant is HOAT which is usually gold in color. But, the stuff that's in it now looks orange, maybe a little on the brown-ish side. (I needed to put some in the reservoir and I used the orange stuff since I think that's what it's running)

Before I got this Liberty, I had been driving the same car for 25 years. So this rainbow of engine coolants is all kinda new to me... Not sure what the right move is here.
I'd like to use the manufacturer specified fluid but, if it's been running the orange stuff, can I put the gold HOAT coolant in after the radiator install?
Is it possible I'm running the "gold" coolant now, and it's just gotten old enough to look brown?
Can I mix these two types of coolant? If not, should I stay with what I believe to be the "orange" coolant, since it may be difficult to get all traces of the old stuff out of the system?