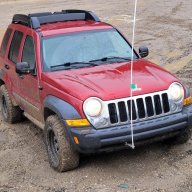 Joined

Mar 27, 2023
Messages

32
Reaction score

29
I think it's a coolant leak of some sort - I am not as young as I used to be so my sense of smell isn't the greatest, but I could smell something and after a while on the 14 mile drive home it occurred to me that maybe what I smelt was coolant. It's also raining, so if I didn't smell it I wouldn't rule out rain splashing up into the engine compartment. But anyway when I got home I opened the hood and stared at things a bit and didn't see anything obvious. I didn't see an exploded hose or a single point where steam was coming out of anything. I didn't see any coolant in the coolant reservoir. And the whole drive the temperature gage was at half like normal. I did see that everything was wet.

I've got a trip to Ohio to do stuff for my mom all day tomorrow and I'll work on this Sunday, what are the likely candidates?

3.7l with over 270k miles and unknown history.