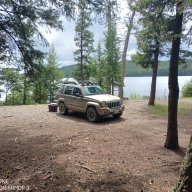 Joined

Apr 3, 2021
Messages

20
Reaction score

4
2004 jeep liberty renegade with 3.7 standard trans

So i changed my drivers side cv axel last year with no problem aside the axel nut being stubborn. But this spring i had my passenger side one give out. So I got it all apart. And when I pulled on the CV axle I could see the intermediate shaft ( if that's what they call it on this vehicle) was coming out with CV axle. So I stopped in fear of gears or bearing rings falling out of place and not being able to line them back up, by just shoving the shaft back in.
Ive tried tapping with hammer even cut the old boot to let the grease out and make a slide hammer out if its still stuck . Questions i have
1. So if i pull this shaft all the way out and dislodge it from the cv axel onthe work bench . Will this drop parts out of aliment inside, or will i be able to just slide it back in like nothing happened?
2. Im realy not in a safe lifing spot as i have a lumpy dirt driveway , so lifting up both sides of front seems dangerous and tippy , so I don't think i will be able to disassemble the other side to install a c clip or whatever is supposed to hold it from the other side. So any ideas or experience with this would be great , ive never had the intermediate axle come out or want to come out. It was either the CV axle was stuck in place or it came out easy.