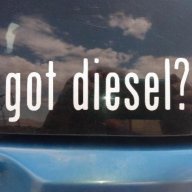 Joined

Mar 11, 2020
Messages

25
Reaction score

11
Location
Hi, I have been lurking for about a year and finally had a question that needed answering: tailgate latch failure. So here I am.

I have an '05 CRD. I previously owned a 1966 Dodge W200 Power Wagon, 1987 Dodge W150, 1997 Geo Tracker 4x4 (tiny!), 1993 ZJ, and a 1994 Ram 2500 diesel so I am familiar with diesels and 4x4s. I spent a couple of years designing and building suspension enhancements for my ZJ and testing them out on Arizona trails. I have a 1954 Willys Station Wagon project that is off-and-on, but mostly off at least for now.

Funny story. When I bought the KJ, the seller said there was a problem with the turbocharger and that the engine would cut out if you stomped on the throttle. Ok..... I took it for a test ride with the seller in the back seat. We got out on the road and almost immediately the Jeep died. I thought the seller was going to have a heart attack! Anyway, it was obvious that the problem was with the fuel delivery system and NOT the turbocharger. I pulled off the road and restarted it and drove back to his house. I bought the Jeep and drove it home with a very light foot on the throttle. It turns out the original owner, not the seller, had done the right thing and installed an external pump by the fuel tank to act as a lift pump* and it failed at some point. The seller didn't know anything about it. Replaced the pump and now the KJ is running like a top.

* The CRD was designed without a lift pump, most likely to save a few $ in manufacture. Silly Jeep engineers!

Anyway, a computerized diesel is new to me. This should be a fun project.