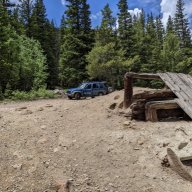 Joined

Apr 17, 2019
Messages

2
Reaction score

0
Hello- my 05 Sport has a clunking noise when I shift and let the clutch out normally. I have been babying it to not clunk. I have looked at it underneath twice. The first time I jacked up the rear wheels and checked the universals on the drive shaft. They are fine. I've replaced universals on other vehicles before. The drive shaft has some play, maybe about 15°-20°.

Today I put up all four wheels and again tried to figure it out. When I engage the parking brake, the play in the drive shaft is still there. When I put it in gear without the parking brake engaged, I have very little play in the drive shaft.

I changed the rear diff fluid a couple years ago and checked it today- it was fine.

I thought the rear diff would make a whine rather than a clunk if it is failing.

Ideas?