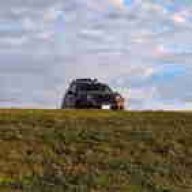 Joined

Mar 7, 2020
Messages

22
Reaction score

6
Location
Hey guys,

I bought a 2003 Liberty Sport 4x4 a little while ago with the intent to flip it - turns out I prefer it in about every way to the Blazer that I was daily driving, so I decided to keep it and fix it up a bit more. Recently the rear driver's side caliper seized up, so I ordered new calipers, rotors, pads, and brake hoses for the rear. It has 183k and a "only if I have to" maintenance history, so I figured it would be nice to freshen everything up. Last night I had everything but the hoses installed, and went to loosen the hoses on the car. Found out pretty quickly that the hoses are crimped on and that I should have been paying more attention. I hadn't twisted very much, so I twisted back to normal to see if there was any possibility of the line being intact until I order a new rear line kit tomorrow.

My problem starts here: When I went to bleed the brakes, everything seemed normal, after a few pumps I had pure fluid flowing with no air bubbles. (I'm using speed bleeder fittings). When I start the car to test the brakes, the pedal goes to the floor. When I go to bleed to brakes again I have consistently gotten a full pump of pure air, followed by pure fluid - no bubbles. I can't spot any fluid leaks, and I'm having some trouble trying to figure out where it's pulling in air. Does anyone have any suggestions? My two thoughts are that I cracked the steel line when trying to unscrew the brake hose, or that I bottomed out an old master cylinder while bleeding, and it pulls air into the system every time I go to test the brakes.

I'm happy to provide any more information, and thanks in advance for the help!
Last edited: