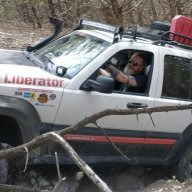 Headed off-grid. You suckers enjoy "civilization".
KJ Supporting Member
Joined

Apr 29, 2021
Messages

1,770
Reaction score

1,769
Location
Taking 'Bert in for alignment at a local shop that comes highly recommended by Jeep (and Taco and Furd, etc...) folks here in Omaha. They specialize in lifted vehicle alignments. These guys are pretty cool, they freely admitted they have never done a lifted Liberty ("JBA does Liberty stuff!?!?!") and asked if I could track down a spec sheet(s), tips, etc. from yinze gurus for them to work from. They are cutting me a great deal (under 100$) just to get play with the somewhat infamous "Tuttle Tank".
I have been hitting the related threads on here hard. One of them I read months ago had a "correct" spec sheet posted, but of course I cannot seem to find it now that I need it. Doesn't help that most of the discussions might as well be in Cyrillic script to me.
I have linked them this thread:
https://www.jeepkj.com/threads/alignment-specifications-for-a-lifted-kj.58723/
I freely admit all I know about alignment is on VW bugs...which I always did myself.
Suggestions?