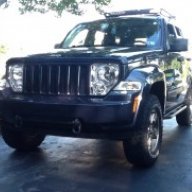 Joined

Dec 9, 2012
Messages

753
Reaction score

504
Location
Hi Jeepers,
08 KK here, 12 (closer to 13) years old. The air conditioning has never had any maintenance as far as I know. It's still working, but not very well. The last few years it has struggled, and this summer it hardly feels like it's doing much.
However, everything functions. The AC compressor clutch comes on when it's supposed to, which means there is some pressure left in the system. And running it is better than nothing on a hot day. I don't think I have a leak. I just think that if the system has lost about an ounce of refrigerant a year (which is typical from what I've read), I'd be short about 12 ounces of R134a by now. The system only holds 18 ounces, so that would put it at only about 6 ounces (1/3 capacity).
I am getting the proper specs from the KK repair manual. The HVAC chapter is here:
https://cardiagn.com/2008-jeep-kk-heating-air-conditioning-service-information/
Of course I would have to have a special machine to **** out the remaining refrigerant and see how much is left, so I won't be doing that. Also I don't want to make the assumption that I can dump a whole 12 oz can of R134a in there without overfilling it, which would be bad for the compressor and not work efficiently.
I can approximate the right amount of coolant by checking the air temperature at the center dash and using a chart that takes into account ambient outside temperature and humidity and also the low and high side pressures of the AC system. Adding just a little refrigerant at a time, I can get the HVAC air temperature and pressures back within spec. (The only way to get it exact would be to evacuate the whole AC system with that expensive machine and start from empty.)
You must be registered for see images attach
I ordered a set of inexpensive manifold gauges from EBay to be able to check the high and low side pressures. That won't be here for several days. I was curious though about the temperature of the AC air today so I grabbed a kitchen thermometer and went out to check. As a scientist, I needed baseline data!
The Jeep had been baking in the sun. The temperature sensor read 98° F.
You must be registered for see images attach
The actual temperature outside was a bit less at 86° and 43% humidity.
You must be registered for see images attach
However, the cabin temperature was pretty hot, as was the air blowing from the vents with the AC off.
You must be registered for see images attach
Now with the AC on and the engine idling, it went down to about 72°.
You must be registered for see images attach
Giving it some gas so RPM increased to about 2000, I was able to get it down to maybe 68°. Room temperature! Yay.
You must be registered for see images attach
So, we are definitely not in spec. According to the chart above from the KK repair manual, on an 85° day, the air coming from the vents should be about 50° F. We are about 20° too high.
When my manifold gauge gets here, I'll check the pressures with the engine off first, to make sure the high and low sides start out similar. Then I'll check again with the AC on and the engine running to see where we are. If both the high and low side pressures are lower than spec (my hypothesis), I probably just need to add coolant. However, different pressure patterns can indicate a malfunction, and I'll follow the repair manual to identify the problem component. If something needs replacing, then I would have to get the system evacuated before proceeding.
Many thanks to the following YouTubers for educating me on how the AC system works and how to diagnose it:
- Ratchets and Wrenches
- Eric the Car Guy
- South Main Auto
All three of the above channels have excellent videos that are worth watching if you're considering working on your Jeep's AC at home.
More to come next week when my gauges arrive and I check the pressures.
Last edited: