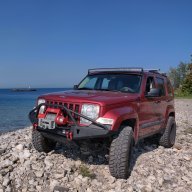 Member
KJ Supporting Member
Joined

Apr 18, 2019
Messages

64
Reaction score

26
Hey guys,
It has been 8 months now with what was the JBA/Tommudd's econo lift for the KK Liberty.
My initial thoughts: WOW this thing rides great!!
And it rode great, for some time - but now I'm having some issues with the rear.
My post
here
shows all the components included in the kit (and some extras), but I think my root cause is either blown shocks or a spring issue.
When hitting bumps too fast, especially combined with passengers (i try not to offroad with passengers), the back end likes to bottom out - it feels stiffer than the bump stop though.
The rear springs sent by JBA seem to be tightly coiled compared to other Liberty springs I've seen, and it certainly seems like there would not be much space between the coils (if any) when I hit the bump stop.
Another important thing to note
- I have a decent amount of weight hanging off the back. I have a hitch-mounted tire carrier (Wilco Offroad), with a full side 32" spare, 5 gal gas can (filled) and a hi-lift jack. In total, I couldn't imagine it being much more than 300-350 lbs
Here is a comparison of my springs (red ones on bed) and other Liberty springs. Does the spacing of the coils seem odd? or am I completely barking up the wrong tree?
If the springs arnt it, what do you guys think it could be? I appreciate any help!
You must be registered for see images attach
You must be registered for see images attach