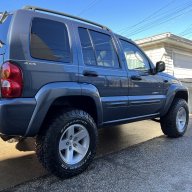 Joined

Sep 11, 2021
Messages

9
Reaction score

5
Hey all, this is the first time I am lifting a Jeep and i'm nervous about it. Fortunately, i'm doing it at a place with all tools needed including Spring Compressors, Ball Joint kits, ect., but i'm definitely an amateur car guy. On the other hand, i'm excited to do this job and learn from it.

Long story short, I got a quote from a 4X4 shop near me, they wanted to charge me $5900 for to install a Rocky Road Kit. They originally wanted to sell me a Skyjacker, but I want the OME/BILSTEIN combo, the Rocky Road was their counter offer. I've decided to do it myself for obvious reasons and i'm a bit nervous about the whole thing. I want to make sure I'm purchasing the correct parts and I have a few questions to go with these parts. I've gotten most of my info from this forum, but I am still looking for a "double check" from the pros.

PARTS:
* JBA UCA's
*Front: Old Man Emu 2927 springs with Bilstein #24-139168 shocks
*Rear: Old Man Emu 2948 springs with Bilstein #24-185660 shocks
*(2) 2" Teraflex front bump stops (I have no idea what to buy)
*(4) hockey pucks for the rear, ( two per side bolted down to the lower spring perch after installing the rear springs ) Drill hole first before you install springs

Here are my questions:

*Will this lift combo give me a 2.5" lift with a "level" result?

*Since the rear shocks are for a Wrangler, is this still a direct fit?

*What TeraFlex Bump Stops do I buy?

*Am I missing anything?

*Do you recommend a specific site for Off-road Parts?

*I'm still a bit confused about the Hockey Puck install.

I am willing to listen to any tips or criticisms at any point. I want to do this once and do it right.
This is an amazing site and I appreciate all it has to offer! Thanks y'all!
Last edited: