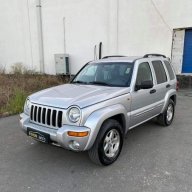 Joined

Sep 9, 2021
Messages

3
Reaction score

0
Location
I live in a country where Jeeps are not common so finding a good mechanic is hard.
I'm having problems with my Jeep KJ, I'll try to explain them to the best of my abilities.
- My Jeep has no power, it's very hard to reach 100km/h.
- On idle the rpm move up and down 600 to 900. If I push the gas pedal and send the rpm to 2k-3k and let it go, very often the engine shuts off.
- Long crank every time I want to start the engine.
- When in idle I can fully squeeze the radiator hose and when I push the gas pedal the hose gets filled with air and I can't squeeze it anymore at all, until off gas and on idle again.
* I just replaced the fuel filter, also did a oil and filter change, and changed the air filter. I though the problem might be with the fuel filter but it's again the same issues.
Any help would be much appreciated as I bought this vehicle a month ago and really like it otherwise, but I'm thinking it might not be my best decision
.