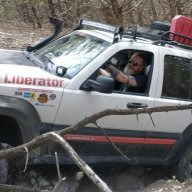 Proud owner of a nice, cheap set of center caps.
KJ Supporting Member
Joined

Apr 29, 2021
Messages

1,640
Reaction score

1,492
Location
Whaaa…?

I drove a 73 Bug for ten years myself.
Exactly. Facebook car advice is bad news and should be used only for entertainment purposes. There is an infamous orange metal flake super beetle rolling around SoCal. The windows are tinted to not technically legal full black so you cannot see the interior. When you first look at it you feel it is wrong, but cannot tell how. The longer you stare at it the more it just feels wrong. Then you notice it is a foot longer than stock and the entire front end is hand-custom fiberglass work to hide the full mid engine Cadillac drivetrain V8 it contains. That vehicle build pre-dates social media. (and was Featured in Hot VWs around the turn of the century)
I ended up against him in 2004 at a sleeper drag event. He ate my '67 Beetle Porsche flat four mod alive and then went on to dominate subi swaps all day long.