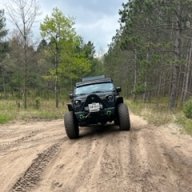 Retired moto tech and gearhead
KJ Supporting Member
Joined

Dec 8, 2020
Messages

297
Reaction score

209
Location
Old beastie decided it hadn't gotten enough love apparently. Went to golf yesterday morning running fine with plenty of fun in the right foot pedal, left the course and the engine started stuttering under load and a CEL. Got home, checked codes and had a bunch. P0031, P0051. P0306, P0136 and P1598. Misses on both banks, bank 1&2 upper O2 sensors and a/c pressure level. Sounds like the down pipe of the exhaust has a leak now too.

Disconnected the battery, did the terminal tie thing first. While it was disconnected, I pulled the connectors on the PCM to check for corrosion - clean and shiny. Cleared all the codes when the battery was reconnected and hasn't reset any, but the stuttering still exists with a noticeable lack of power.

Oil is clean and clear.

Any suggestions where to start?